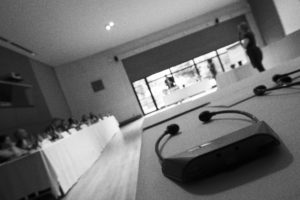 There are two types of interpreter: professional conference interpreters and translators/interpreters, also referred to as liaison interpreters.
Liaison interpreters are not professionals and only interpret now and again. They have not taken a specific training course in conference interpreting.
They have studied at a translation school such as ESIT (École Supérieure des Interprètes et des Traducteurs) or ISIT (Institut Supérieur d'Interprétation et de Traduction), both in Paris, or IPLV (Institut de Perfectionnement aux Langues Vivantes) in Angers. But they pursued a career in translation as opposed to interpreting.
As a result, liaison interpreters are translation professionals who are able to provide interpreting services as part of informal discussions, one-to-one discussions or site tours, in addition to written translations, or when the expertise of a conference interpreter is not required.
Indeed, they do not provide simultaneous interpreting or consecutive interpreting services.
They always work without equipment since they are the go-between who enables two or three people to understand each other and work together.
Be that as it may, liaison interpreters always have excellent technical and specific expertise.
They are, of course, bound to ensure confidentiality as per article L 226-14 of the French Penal Code (code pénal) but they never work on strategic issues (they will not interpret international political meetings, for example).
CG Traduction & Interprétation provides guidance so that you choose the right interpreter and the right type of interpreting in order to optimise both the performance and cost of the service.
When should you use a liaison interpreter?                                   
When welcoming a foreign partner who is visiting your company
When you want someone with you for a recce visit
When providing training on a machine for example
When obtaining consumers' views
When taking part in legal proceedings (notary, lawyer, tribunal, police, etc.) – this involves calling on the services of a certified translator listed by the Court of Appeal.
When you're in need of a backup in instances where people think they can communicate but they need reassurance in the event of a problem.
…